Resiliant polyurethane elastomeric tape
BumperFlex™ Tape is a highly resillient flexible polyurethane based tape coated with an aggressive pressure sensitive adhesive.
This tough, yet durable material is ideal for preventing squeals and rattles. They also offer protection against scratches and is the perfect way to create a non-slip base over a large area due to it's high coefficient of friction
BumperFlex™ Tape protective tapes are supplied on a roll with a thick backing paper suitable for die-cutting into roll form for automated applications.
A BumperFlex™ Tape feature is that it's easily die cut into pads, discs, washers, gaskets or to suit almost any job.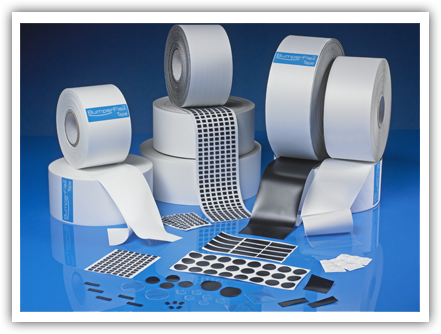 Product Features

Highly Transparent - Discrete colour matching
Age resistant - Will not crack, harden or yellow
Highly resilliant - Hard wearing & non-slip
High abrasion resistance - Excellent cushioning properties
Shock & vibration resistant - Sound dampening qualities
Suitable for conversion - Special die cutting liner

Product Benefits

Die-cut squares, rectangles, ovals, washers, strips, discs etc
Die-cut into custom gaskets to suit individual applications
Creates effective spacers or cusioning onto glass or clear plastic
Corner protection strips and kick pads
Protective spacers for Aerospace and Automotive applications
Part Number

Thickness mm

Colour

Width mm

Length

BF.4105.CL

0.5

Clear

115

66

4001

1

yes

BF.4105.BL

0.5

Black

115

66

6001

1

yes

BF.4105.W

0.5

White

115

66

6001

1

no

BF.4105.BR

0.5

Brown

115

66

6001

1

no

---

BF.4108.CL

0.8

Clear

115

66

4001

1

yes

BF.4108.BL

0.8

Black

115

66

6001

1

yes

BF.4108.W

0.8

White

115

66

6001

1

no

BF.4108.BR

0.8

Brown

115

66

6001

1

no

---

BF.4110.CL

1.0

Clear

115

66

4001

1

yes

BF.4110.BL

1.0

Black

115

66

6001

1

yes

BF.4110.W

1.0

White

115

66

6001

1

no

BF.4110.BR

1.0

Brown

115

66

6001

1

no

---

BF.4116.CL

1.6

Clear

115

33

4001

1

yes

BF.4116.BL

1.6

Black

115

33

6001

1

yes

BF.4116.W

1.6

White

115

33

6001

1

no

BF.4116.BR

1.6

Brown

115

33

6001

1

no